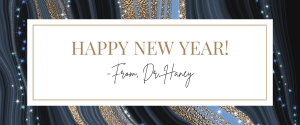 Happy New Year from all of us at HaneyGYN! We are also celebrating 2 years of providing an innovative new level of healthcare to women. In 2020, we were on the forefront of developing direct patient care in Nashville. Our dream to give women frictionless access to excellent preventive healthcare and gynecologic care has become a reality and is flourishing as we enter 2023! Here are just a few exciting things we experienced in 2022:
We opened our new HaneyGYN office space.
Our new space provides an enhanced experience in a convenient and calm environment in which to engage with your provider. We've also continued our commitment to our founding principles:
You can expect to not feel rushed or like your insurance is dictating your care.
You will always have the time to be educated on your health and be enabled to make informed decisions about your health and well-being.
Timely appointment availability, on-time and efficient visits, and timely return of phone calls about questions or test results are all the norm at HaneyGYN.
In short, we have reimagined the personalized delivery of women's healthcare with CARE at the forefront of every interaction.
We added new services at the HaneyGYN office space. 
In addition to excellent gynecologic care for all ages, we are thrilled to now offer the following services, all under the HaneyGYN roof:
Perimenopause and menopause hormone management
Collaboration for dermatologic care
Mental health therapy
Sleep therapy
Mindfulness training
We launched THRIVE, our group weight loss program.
In collaboration with Stephanie Korn Wellness, we recently introduced THRIVE, a 12-week group-based sustainable weight loss program that includes a medical evaluation and physician oversight. In 2022, ALL participants in THRIVE lost over 5% of their body weight in 12 weeks and left the program with a blueprint to continue weight loss and healthy lifestyle habits!
We took a leap of faith and are so proud of what we built.
Finally, we took a chance on taking care of women directly, without barriers, and we have succeeded in the goal to improve the health of the women who trust us with their care.
We have many more exciting new things coming.
Please be sure to make your health a priority in 2023 and experience healthcare re-imagined at HaneyGYN, where women and their health are at the helm!
Here's to good health and happiness in 2023!
Sincerely,


Katherine C. Haney, MD, FACOG, NCMP, ABOM
President and Founder of HaneyGYN 
---

Caring for women at all stages of life is what HaneyGYN is all about. Whether you're the parent of a teen who needs gynecology care or in need of care yourself, Dr. Haney is here to help. We take the time to truly get to know you and understand your unique needs to provide personalized, effective care. Learn more about our practice by contacting us today.